Whether you're single with high hopes, planning to propose to your loved one, or are simply interested in renewing your vows, this Nightmare Before Christmas coffin ring box is exactly what you need to make the special situation unique.
While most wedding ring's come in a similar (and rather boring) shaped box, why not separate your proposal from the rest with a Tim Burton-inspired coffin-shaped box that is sure to give your significant other a memory for life.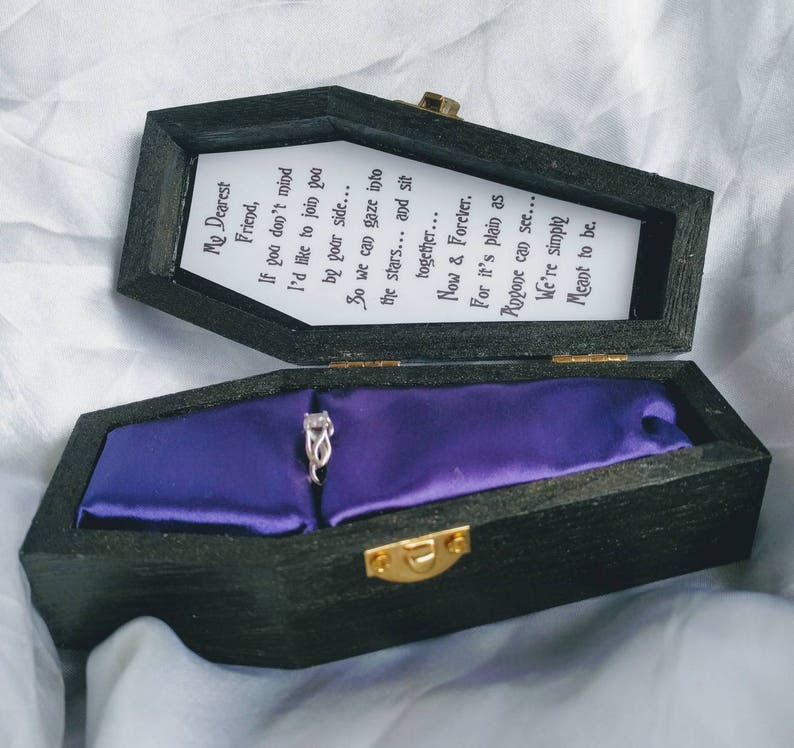 Credit – Etsy
The handmade Nightmare Before Christmas coffin ring box can be personalized to your liking with eight different color options, and can also be used for more than one purpose, meaning you do not have to be in a long-term relationship and contemplating marriage – it can be used as a gift for Halloween, Christmas, or even your anniversary.
The words "we're simply meant to be" are at the end of the heartfelt message that's attached to each individual ring box, which ultimately gives the coffin a more romantic feel.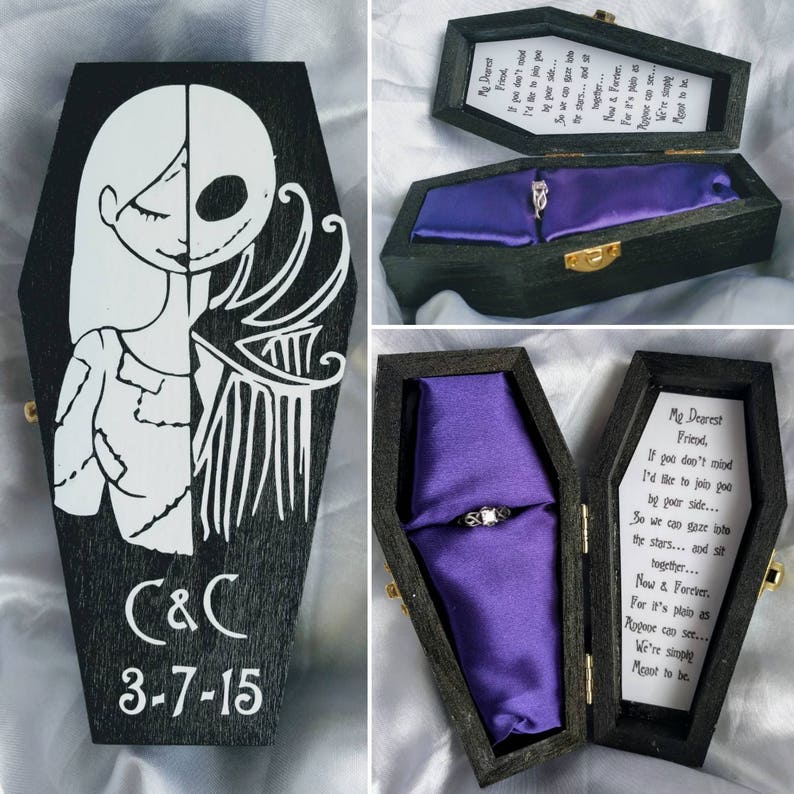 Credit – Etsy
In the rare case that your loved companion rejects your proposal, you can use the box as a small decoration piece and add it to your Tim Burton collection. There are no returns or exchange policies for this product.
Don't take my word for how great the ring box is, check out some reviews for the Jack and Sally coffin below.
"This was even more wonderful than we imagined. Can't wait for it to be used in our Halloween Wedding." – Heather Lytle on Etsy
Another reviewer said:
"Far exceeded my expectations! Bigger than I thought it would be, but it's absolutely, positively perfect!
To make this yours, head over to CherylsThingaMaBobs on Etsy, HERE, and get yourself a personalized Nightmare Before Christmas coffin ring box.
How will you be proposing to your significant other? Will you be adding the coffin ring box to your shopping list? Be sure to let us know in the comments below.