It doesn't seem so long ago that the announcement was made revealing a new three-book series by Goosebumps legend R.L. Stine that would be centered around the Garbage Pail Kids universe, but the author is now taking pre-orders for the first in the series titles Welcome To Smellville. Not only this but the Garbage Pail Kids website has released a form allowing readers to claim a prize pack full of collectible goodies with every pre-order! Make sure you register once you have ordered the book for your prize pack.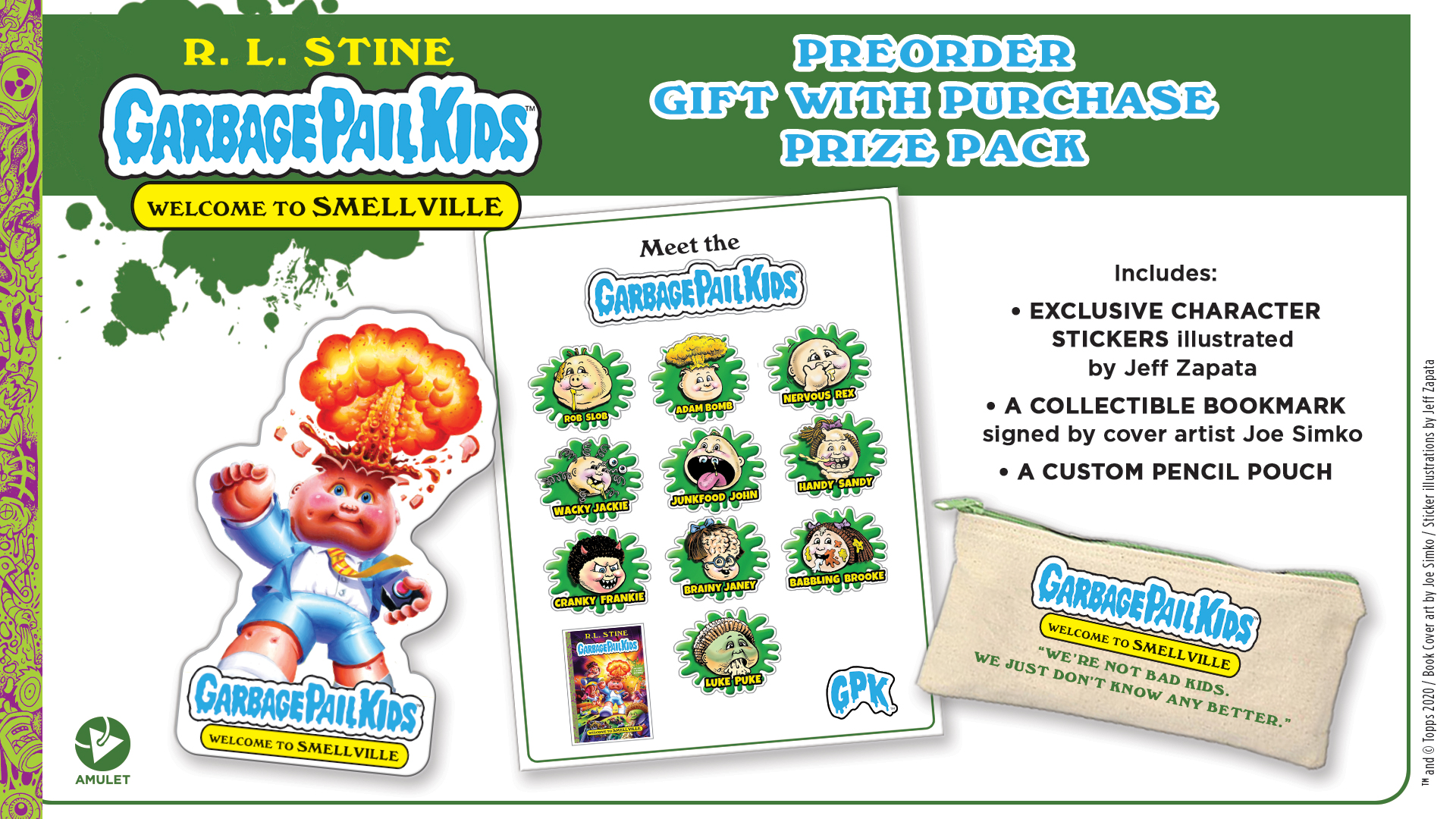 Not only will the pack contain character stickers that are exclusive to the book, but it will also have a bookmark that has been individually signed by Joe Simko who was the cover artist for Welcome To Smellville and a custom pencil pouch.
The description for the series welcomes you to Smellville "where ten kids all live in a big tumbledown house and have as much fun as they possibly can." and that the book will focus on "the Garbage Pail Kids—from Adam Bomb to Brainy Janey— [who] get into mischief at their middle school, all while battling bullies and their archenemies, Penny and Parker Perfect.".
The book series is all part of the celebrations for the 35th anniversary of the Garbage Pail Kids franchise, and creators of the GPK Topps certainly seem to be going back to the early roots of the franchise in including the tradeable stickers in the bundle as well as appearing in the book itself.
Welcome To Smellville is currently retailing for $14.99 if you want to pick up the hardcover and the kindle version is $9.99. The promotion's fine print doesn't mention that you have to buy a specific format to be eligible for the prize pack but it is limited to residents of the US with one pack per person and household.
Welcome To Smellville will be the "first-ever GPK illustrated middle-grade series" with Jeff Zapata doing the illustrations and you can preorder the title wherever books are sold with a release date of September 29.