Beetlehouse in Downtown New York City is one of two restaurants with its twin being based in Los Angeles, California. The restaurant is self-described as being "a year round celebration of Halloween with an artistic and thematic atmosphere inspired by horror culture, magic, and the artistic, literary and cinematic works of Tim Burton, Alfred Hitchcock, Bram Stoker, Washington Irving, Edgar Allen Poe and many more."
With more of a Tim Burton theme, Beetlehouse NYC says that they are a "Halloween party with a Burtonesque feel, curated by Alfred Hitchcock, with a 90s goth band on stage and everyone is wearing weird costumes".
Throughout the evening on select nights they have scheduled perfomances and acts, as well as actors who are dressed the part walking amongst the tables.
With a custom themed cocktail menu featuring drinks such as the 'This Is Halloween' which contains Fireball, Sour Apple, Pumpkin Liqueur and Apple Cider, and food items such as 'Edward Burger Hands' and 'Boogie Man's Braised Bacon' fans of the Halloween aesthetic are in for an absolute treat. The Menu is prix fixe, meaning that you will pay a set price for a selection of what the restaurant has to offer.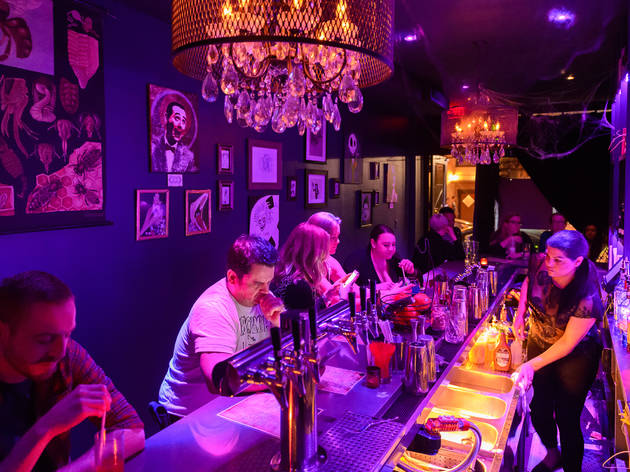 The NYC location started as a popup in 2016, which eventually saw enough success to establish a permanent restaurant after only three years.
It is a relatively intimate experience as the venue can hold up to 45 people, compared to their Los Angeles property which can hold upwards of 500.
Reviews of the restaurant are mostly positive with comments such as it being "A must for Burton fans" and "an absolute delight for all Tim Burton fans" with one patron calling it a "once in a lifetime restaurant".
So if you are a fan of Halloween or anything related to Halloween movie greats such as Tim Burton, it seems that it is definitely worth the trip down to Beetle house where you will be able to revel in the performances and culinary delights for yourself. If you are planning a visit however, make sure that you book ahead as seats are limited!